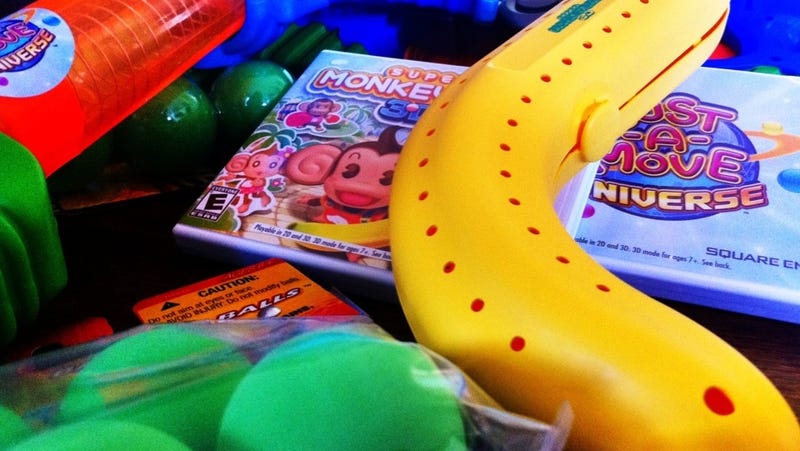 Swag | Sometimes the freebies that arrive on my doorstep kinda go together. (Photo: Brian Crecente)
---
Bedtime Stories
---
The saga of George "geohot" Hotz continues, hurdling deeper into absurdity with each growing unit of acceleration. He fought the law and lost-a judge demanded he hand over his PS3-hack relevant hard drives. More »
---
Ensconced in a suit of modern day armor, Force Recon Marine "Alcatraz" can survive high rise drops, turn invisible and absorb the impact of machine gun fire. More »
---
In today's episode of Speak-Up on Kotaku, commenter Kadin is curious to know which video game hardware and software companies have earned your trust over the years, and which have lost it. More »
---
Death Rally is a cool little top down car combat game coming to the iPhone and iPad from the folks behind Alan Wake, Max Payne and of course, the original Death Rally. The original was released for computers back in 1996 and published by Apogee as a top-down perspective racing game with guns. More »
---
It has been hard to believe the claims that 3D video game graphics do anything other than make video games look better. And maybe give you a headache. More »
---
Hahahahahaha... More »
---
From time to time we like to publish a post from our ceiling-walking neighbors down under. Today Kotaku Australia debates Gizmodo Australia about the question of the century: More »
---
The selection of video game comics this week is thin, but a couple of major stories launch in the world of super-hero comics, one of the best graphic novelists in the world releases his first book in over a decade, and the iPad gets probably its best release of recent classics ever. More »
---
We're just a day away from Kotaku's final Denver fundraiser, a party we're throwing to raise money for those in need following the devastating earthquake and tsunami in Japan. More »
---
The intentionally, unabashedly offensive School Shooter: North American Tour 2012, designed to be "the most realistic student slaughtering modification ever made," has lost support from its former host. More »
---
Did you love those original Star Wars movies? Were you horrified by the newer ones... or think they were at least a wee bit inferior? Attention: we're actually living in an era of great Star Wars. More »
---
I got three Nerf guns and a banana case in the mail today. Yes, they make cases for bananas... well-endowed bananas. Don't forget!
Fundraiser tomorrow night
. –Brian Crecente
---

Got tips for our editors? Want to show the world your latest creation? Ready to anonymously share an unannounced game? Email us at tips@kotaku.com. Or leave us an anonymous voicemail at the Kotaku tip line (612) 568-2581.

Click here for the Speak Up or Tips forums. Want a more "blog-like" look? Click the button up top next to "Top Stories."