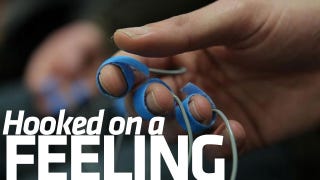 You're slowly creeping along the darkened halls of a haunted mansion, waiting for the next zombie to come shambling around the corner. It's a familiar situation, and you're not afraid. Sensors convey this information to your game console, and suddenly an ear-piercing shriek fills the air behind you. Your heartbeat elevates, your fingertips sweat.
Your game console is appeased.
It's the sort of technology that Valve's Gabe Newell has shown great interest in; the sort of implementation the more hopeful among us imagined for the Wii vitality sensor, a piece of hardware that's yet to actually surface.