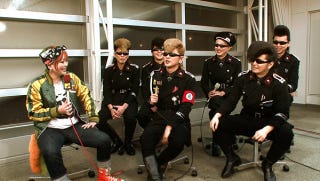 Kishidan, a Japanese pop group, showed up on MTV wearing Nazi-style outfits late last month, drawing international criticism.

Kishidan typically dresses as high school thugs from the 1970s, wearing bosozoku (biker gang) style outfits. Kishidan is tongue-in-cheek look at Japanese gang culture from days gone by. Their music is poppy and fun and is known to Western gamers thanks their appearance in Nintendo DS music games Osu! Tatakae! Ouendan and the title's sequel.The group looks very similar to the characters in Ouendan, but the similar appearance might simply be a coincidence.
The group does wear a variety of goofy outfits because the retro schoolboy dudes. Kishidan's Nazi-inspired outfits didn't have swastikas or S.S. emblems, but did feature red arm-bands, skulls and iron crosses (the lead singer, however, always wears a red-arm band). Didn't anyone foresee a possible brouhaha? Probably not.
Why would they when this imagery does occasionally pop up in unexpected places, like role-playing games, Killzone 3 promotions and even accidentally in kids' shows, nobody in Japan really bats an eye. Take last fall when Pond's ran an ad campaign, featuring stars of the all-female theatrical troupe the Takarazuka Revue.