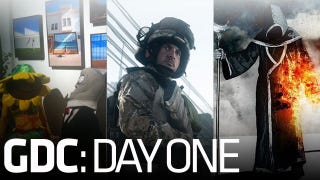 The Kotaku crew is hip-deep in the 2011 Game Developers Conference, bringing you the latest news, newest games, and anything else we can drag kicking and screaming out of one of gaming's biggest annual events.
It's not over until our boys in the field come home, and even then the coverage will keep on coming. We'll gather it all together here, along with some of Kotaku's other big stories you may have missed in the GDC rush.
The Games
Battlefield 3 fired off one of the first shots at this year's GDC, with the latest entry in EA and DICE's first-person shooter gearing up to take on Activision's Call of Duty franchise in a big way.