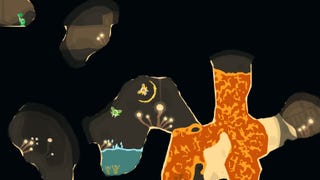 For one third of PixelJunk Shooter 2, players will command a small spaceship whose guns and thrusters must contend with the small problems of creatures that belch missiles or lava and with the large problem that the caves through which it flies are intestines churned with the processes of digestion.
For the remaining two-thirds of this PlayStation 3 sequel, the spacecraft's adventures are even more interesting than that.
The best quality of PixelJunk Shooter 2, a downloadable 2D game with cartoon graphics and catchy music, isn't its surface — more accurately, subterranean — appeal. Rather, this is a game that sits fascinatingly at an unexpected intersection: at the place where the Japanese roads of Space Invaders-style shooters and Zelda-clever level design meet again, as they did in Shooter 2's predecessor, but now converging with the American cross street of multiplayer that was paved by a recent Call of Duty.
Why You Should Care
The people who made Shooter 2 are on an exceptional quality streak, establishing their Q-Games studio through a string of downloadable releases for the PlayStation 3 and Nintendo DS as one of the most consistently excellent makers of games that don't come in boxes. Each release is a notice of how well-made, how fun and how complete downloadable games can be. This one merits special attention as Q attempts to establish a Call of Duty-style multiplayer scheme to a non-first-person-shooter.
What We Liked
The Unchanging Fundamentals PixelJunk Shooter 2's campaign mode is not radically different from that of the enjoyable game it follows. As in late 2009's PixelJunk Shooter 1, one or two players control one or two spaceships that can be flown through caverns filled with shoot-able enemies, lost explorers and buried diamonds in need of a tug from a grappling hook and an abundance of fluids. The fluids from the first game — lava, water and a magnetic oil — are scene-stealers again, as the undulate realistically when fired upon and when cascading through a newly exploded hole in the ceiling toward one's ship. Lava will burn you, water will cool you back down. Lava mixed with water forms rock and that combo is often the solution to you problems.
All that is back, set up in Shooter 2's themed worlds 4 through 6, which follow the first game's 1 through 3. Each world contains five levels; each level contains several sections full of enemies and lost explorers. Just as the designers of a new Mario game might add a dinosaur or the ability to transform into a bee and then extrapolate as many fun interactive challenges from that, Q-Games adds, in Shooter 2, purple stomach acid and green egg colonies, two new fluid types whose rules of interaction with your ship and with other fluids are more delightfully discovered on your own (Note: If you watch the video in this review, you'll learn some of them). Your ship can once again briefly transform into, say, an airborne lava cannon, but it also turn into a hungry mouth that can munches dirt in any of four directions. It's an old-school joy to learn the slightly new chemical and physical properties of PixelJunk Shooter 2's three new worlds and what is possible inside them.
The Cleverness Of The Caverns Each section of PixelJunk Shooter 2 is a cavern — sometimes set inside a stomach — that must be escaped. Reaching the exact is both a battle and a puzzle, the kind of challenge that recall locked Zelda rooms where a set number of torches must be lit with inflamed arrows or where enemies must be cleared before a walls is bombed open. In Shooter 2, escape is possible in one section only after figuring out how to safely dive through a sea of acid or by learning where to find a water source that can cool a swelling volcano and deducing how in the underworld to get that water to reach that lava. As the game progresses, the levels become more mechanical, as switches and lights, electricity and magnetism come into play. The solving of these locked-room conundrums usually involves a pleasant eureka moment and, crucially, the sensation that performing the solution is almost always as fun as the figuring it out.
The Soundtrack Some people tune video game music out, or so I've heard. Sometimes they do this because the music is not as stylish nor as interesting a mix of record-scratching, jazz and whatever other eclectic influences inspired the series' maestros, the producers of "stoned soul hip-hop" High Frequency Bandwidth.