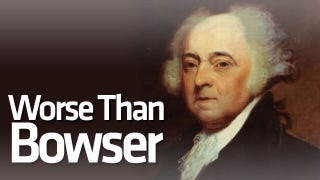 I wasn't sure I heard David Pellas correctly. We were standing in a noisy room. He was playing a video game called The Conduit 2 that he helped make. He was fulfilling my request by showing me what he considered to be one of the most impressive things in the game.
And he said: "I like to think of John Adams as a Triceratops."
It was at this moment that I dropped my gaze from the TV and stopped looking at what David Pellas considered to be one of the most impressive things in The Conduit 2. I was looking at one of the most impressive quotes I've scrawled in my reporter's notebook.
Yes, I got it right.
John Adams is the main bad guy in the Wii game Conduit 2, a first-person shooter game set in modern times and filled with high-tech guns and lasers. Pellas had mentioned Adams' role casually yesterday in the penthouse of the Shoreham Hotel, where the Conduit 2 and other games published by Sega were being shown to press and fans.
I had to stop him and confirm that he meant that John Adams. He did. The second President of the United States. The guy was really an alien as were some of his cronies who all only appeared to be human. One crony looks more like a green lizard of some sort. John Adams? More like a Triceratops.
I've played video games that feature Satan as the bad guy. Dracula is a formidable foe, as is the snarling Bowser, who usually kidnaps Princess Peach in advance of getting squashed by Super Mario. Having missed the reportedly fun Conduit 1, I'd not yet encountered the possibility of John Adams as arch-villain.