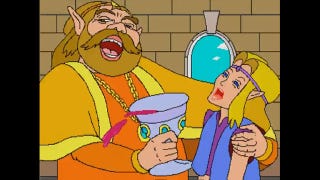 Over the past 25 years, not every single Legend of Zelda game has been made by Nintendo. Some were developed by Capcom, and are outstanding in their own right! And some were made by other people, and are supposed abominations.
At least, that's what popular opinion will have you believe whenever the topic of the Philips CD-i Zelda games is brought up. They're seen as horrors, games unworthy of the brand or a place in its canon. Games that should be, were it possible, dragged up out of the dustbin of history only so they could be set on fire and erased from living memory.
And that's putting it mildly. People really hate these games. The thing is, are they actually that bad? Worth all the spit and venom? I don't believe they are.
For those unfamiliar with what we're talking about, in the early 1990s, Nintendo and consumer electronics giant Philips had a very strange few years. The pair had originally teamed up to produce a CD-ROM add-on for the Super Nintendo, which would compete with the ill-fated Sega CD, but when those plans were scrapped Philips found itself in possession of the rights to make some games based on Nintendo characters.
A total of four games - Hotel Mario and these Zelda titles - would be released for Philips' own multimedia machine, the CD-i. Nintendo would not develop them, nor publish them, it would simply...give them its blessing and look on from a distance, no doubt praying that the developers chosen to work on the beloved franchise didn't screw things up.
They did. By the time the deal was up three Zelda games had been released for the CD-i: two side-scrolling titles that were developed by Animation Magic (fun fact: they also worked on the abandoned Warcraft adventure game) and a top-down adventure title that was developed by Viridis.
When people are talking about the Zelda CD-i games - and telling you they were the worst thing ever made by man - they're usually talking about the first two. Called "Link: The Faces of Evil" and "Zelda: The Wand of Gamelon", they're platforming RPGs in the vein of Zelda II, combining 2D sprites and backgrounds with colourful, if amateurish animated sequences.
The intent was to create a more cinematic Zelda experience. The result was a disaster. The platforming sections were crude and stilted compared to Nintendo's titles, while the game's storyline (and animated sequences) took their cues from the Zelda animated series and not the Nintendo titles. Meaning all the worst parts of that show were repeated here, only they were somehow worse.