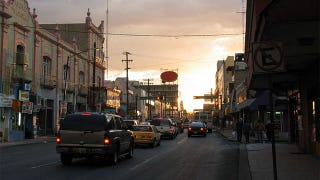 After officials in El Paso, Texas, made their discomfort over Call of Juarez: The Cartel last week, the Mexican state of Chihuahua is asking Federal authorities for an outright ban on the video game that hits too close to home.
The Mexican state of Chihuahua is home to the city of Ciudad Juarez, a city plagued by drug cartel influenced violence, where more than 3,000 violent murders occurred over the past year, including beheadings and death-by-torture.
It's also one of the settings for Ubisoft's upcoming Call of Juarez: The Cartel, the third game in a trilogy of games that, until now, have been set in the past. The Cartel, however, is set in the modern day, taking players on a journey from the Los Angeles area to the conflicted city, guns blazing.
Authorities in the city of El Paso, Texas, which shares the border with Ciudad Juarez have already denounced the game. Now it's time for Chihuahua's state legislators to make their stand against a game depicting the sort of violence they see every day.