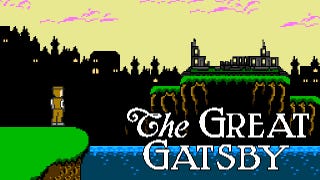 The Great Gatsby—the "NES" version, that is—started its strange life as a single screen shot, a pixelated recreation of Francis Cugat's iconic cover art for F. Scott Fitzgerald's great American novel.
"It was just too funny," says The Great Gatsby NES lead developer Charlie Hoey of that artwork "all NESified and blocky with PRESS START on top of it."
"I started thinking about turning it into a full game." So that's just what he did.
Nine months later, Hoey and his co-creator Pete Smith released The Great Gatsby NES online as a Flash game. The 8-bit throwback that plays like Nintendo Entertainment System games of yore has since been played, liked on Facebook, and tweeted about hundreds of thousands of times.