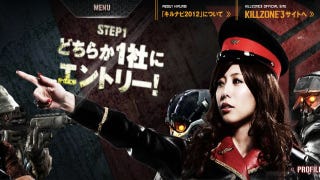 You've made a first-person shooter. Who better to hawk it than somebody who really likes first-person shooters. Somebody like Noa.
Noa Torigoe, star of adult films like Max Orgasm, Ultimate Gold and The Fuck Fuck Fuck: 10 In Rapid Succession, has been roped in to promote Killzone 3 in Japan. While first-person shooters do have a following in Japan, the most popular genre for console games are traditionally role-playing and action games.
Noa isn't just a hardcore pornstar, but a hardcore gamer. Sure, lots of porn stars play video games, big deal, but how many Japanese people, let alone blue movie actresses, own an Xbox 360, reached Level 50 in Call of Duty: World at War two weeks after release and wax about the differences between Fable I and Fable II?
"I think because more and more Western games are getting Japanese releases," she blogged in 2009, "it seems like we're in an age where the game world is shared."
She's big on first-person-shooters especially, and even has her own blog dedicated to video games called "Head Shot Freak". in which she writes about games like Dragon Age: Origins and Borderlands.
"The console that I play the most is the Xbox 360," Noa told Kotaku Japan at last year's Tokyo Game Show. "Recently, I've been playing Mass Effect and Fallout."