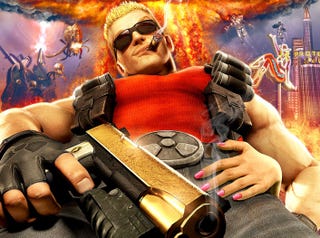 What Randy Pitchford bought last year wasn't the rights to a storied video game franchise, it was a promise.
"When I made the decision to take the risk, to buy the brand, I became the guy responsible for making sure this ships," said Pitchford, president of developer Gearbox Software. "I felt the best commitment I could make, was to make the game we've been waiting for all of this time.
"I bought the brand. I have plenty of time. I can do whatever I want to do down the line. But this has to be resolved, I need this as a gamer."
Pitchford's words have weight, a sense of gravity not lost on me, a fellow gamer who needs the resolution as much as anyone else who gamed on a computer in the 90s.
Duke Nukem Forever won't be a game that reboots the series or a game that changes the way we think about a genre, or a brand. It will be instead a reminder. While it can sometimes feel lost in its time, Duke Nukem Forever in action still delivers those same old experiences.