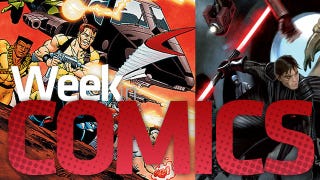 My weekly round-up of comics returns for the new-look Kotaku. There are new comics every Wednesday in American shops and — legally! — for download. Some are about video games. Some are good. (That's a joke, sort of.)
Comics You Should Consider Buying
Suicide Squad Vol 1: Trial By Fire: Don't you want to read one of my childhood favorites? In this collection of a classic 80s comic series, the federal government forces incarcerated supervillains to go on dangerous missions, with the promise of reduced sentences and the threat of having their arm blown off if they go AWOL. Never has a comic made such terrific characters out of such lame ones.
Ultimate Comics Captain America #2 The second issue of Captain America vs basically the Captain America of the Vietnam Era. Written by Jason Aaron who always writes good comics (other than Punisher MAX). The first issue was very good.
Wolverine #5.1 It's another Jason Aaron comic. The guy writes great Wolverine stories. This one involves the Avengers and X-Men attending Wolverine's surprise birthday party. I have faith!
Comics With Video Game Connections
Assassin's Creed: The Fall #3: The final issue of a pretty good series. The previous issue implied that we're going to see who runs the modern assassin's guild in this issue, some person called the Mentor. The other part of the series takes place during the Bolshevik Revolution in Russia.
Deus Ex #1: Ties into the upcoming Deus Ex: Human Revolution. Crecente liked this one.