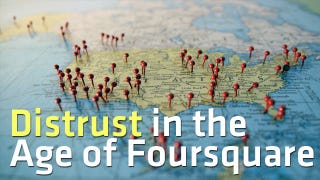 Some time last year, I landed in Los Angeles. I was catching a connecting flight, the bane of the expedient traveler. But I was unusually happy for the brief stop. I'd been changed by something in my phone.
I had only an hour or so to spend in the Los Angeles airport, as I awaited the next flight in a journey that began in San Francisco, for work, and would end home in New York City.
I spent the hour walking past numerous airport shops, pausing in front of bookstores and stands selling overpriced sandwiches. Whenever I stopped, I Iifted my phone and examined it, as if testing each storefront's radiation levels. I checked in to each shop, testifying digitally that I was at each place. Doing this earned me points, more points than I would have received had I flown directly from San Francisco to New York, without detouring past these LAX stores.
For at time back then, I was a slightly different person. Two programs on my iPhone had changed me, by changing the the value I placed on being in any particular place. This, in turn, affected where I went. It also raised my expectations that I could find a new way to understand the quantities of my existence, revealing a new set of data that, like my blood pressure, my height, my weight or my income could define who I was.
These two apps had other effects. They made me suspicious of modern technology's ability to record the truth. They also changed the way I think about you — and not for the better.
Playing (and Cheating) To Win


The two iPhone apps, Foursquare and MyTown, are used by millions of people. Through a combination of the iPhone's Internet and GPS technology, they allow a user to declare that they are in a specific place in the world. With a few taps of your finger, you "check in." That act can be broadcast to friends, kept as a private registry of where you've been or used to improve — if you believe an app can confirm such things — your status. Frequent check-ins to the same location earn users points or awards that elevate them to the status of a place's Foursquare mayor or, in the case of MyTown, to the top of a points leaderboard.
Through these apps you can manage the satisfaction of letting the world know that you are, at the moment, in place A and not in place B as well as the hazards of letting tech-savvy burglars know you're not home.