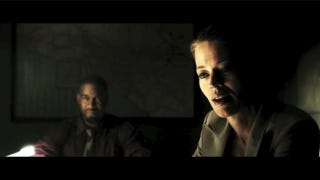 Before the dog days of summer set in, a clip leaked online for a take on the Mortal Kombat movie nobody had ever seen. Gritty, violent and brutal, it was a far cry from the 1990s Hollywood flick.
The 1995 film roared into movie theaters, and while it didn't win over many critics, fans appreciated how it did attempt to be faithful to the game and the well-choreographed fighting scenes. But director Paul W.S. Anderson, who helms the Resident Evil movies, didn't sign on for a sequel. The world got Mortal Kombat: Annihilation, which did so poorly at the box office that it pretty much annihilated any sequel talk. That is, until last summer.
Mortal Kombat: Re-Birth was cooked up to be a showcase for how director Kevin Tancharoen saw the game's re-imagining. "I knew that the 90's version was a nostalgic favorite, so trying to replicate it would be a big mistake," Tancharoen tells Kotaku. "I felt that the only way people would pay attention is if was completely different yet retained certain qualities that people remember." The director wanted to take it seriously and make it R-rated, with an edge, some bite and lots of grit.
Mortal Kombat: Re-Birth wasn't just some fan flick shot in somebody's uncle's basement over the weekend. It starred name talent like Michael Jai White and Jeri Ryan, both with serious geek cred.
The talented actors and moody camera work helped sell the viral trailer, but what really drove it home was how well executed the fight scenes were — more remarkable for how quickly they were done.
Marial artist Matt Mullins, who also mo-caps Uncharted's Nathan Drake, played Johnny Cage and duked it out with Baraka in a scene that took only ten hours to film. "Ten hours is really fast for all of the different elements that we were trying to capture," Mullins told Kotaku last June. "There was a lot of rehearsal before hand to come up with this great sequence."