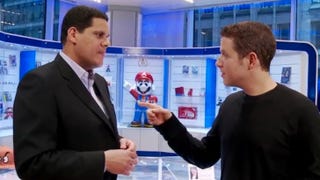 Nintendo would love for us to keep paying $40 or so for portable games. Never mind that 99-cent stuff on iPhone. Those games are a threat to Nintendo? Well, they're a "risk," Nintendo says.
"I actually think one of the biggest risks today in our gaming industry are these inexpensive games that are, candidly, disposable from a consumer standpoint," Nintendo of America Reggie Fils-Aime told Game Trailer TV host Geoff Keighley in the Spike TV series' latest episode. File-Aime was on the show to promote the Nintendo 3DS, Nintendo's next portable gaming machine, which launches next month in America.
Fils-Aime wouldn't call $1 iPhone staple Angry Birds disposable. He called that one "under-priced." But, he said, these cheap games create a "mentality for the consumer that a piece of gaming content should only be $2." He said that 3DS launch-window submarine game Steel Diver, on the other hand, is a "full-fledged" game that will be worth its $40 or so asking price.