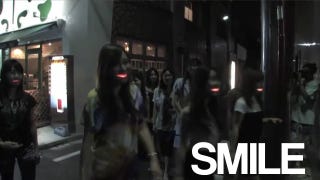 Japanese schoolgirls hitting the streets of Tokyo with blinking LED teeth. Sounds like a crazy fashion trend. Too bad it's just crazy and a fantasy propagated by the Western media.
Earlier this month, a New York Times blog post mentioned a new fashion trend: LED for teeth. "Method Man might have helped make gold fronts famous, but it looks like Japanese schoolgirls could be the driving force behind a new era of fashionable accessories for your teeth," writes the paper's Bits blog, adding that "a curated group of Japanese schoolgirls" appear in a video, wandering around Tokyo. The story spread through the internet, even appearing in The Guardian, which called the LED smiles "the latest must-have accessory in Japan".
In the video, a large group of young Japanese women walk along at night. The whole thing feels staged and awkward — because it is.
Thing is, they're not Japanese schoolgirls, and this isn't some new fashion craze. As The Japan Times points out, Japanese artists created the LED smiles for an unusual advertising campaign to promote a store's winter sale. Neat idea or not, these LED smiles are not a product, and there is no trend.
There have been instances of this before — take the story about Aya Tsukioka, a artist and designer, that was spun into a far-fetched tail of urban camo to combat crime. No, Japanese people do not carry fabric that enables them to turn into vending machines.
"I have seen many articles saying (the LED smile) is popular, but in fact the video (as seen on the New York Times blog) was filmed with female actors," Daito Manabe, one of the artists behind the ad, tells the Japan Times. He later tweeted that he's been getting inquiries from reporters who mistakenly think this product, which doesn't exist, is popular with schoolgirls.
Manabe describes himself as an artist and programmer. A full list of his projects can be viewed on his site. Manabe has been working with LED lights for several years now, doing various test such as this Pikachu-inspired one. Other tests Manabe include his attempt to recreate Jonathan Post's 3D blinking.