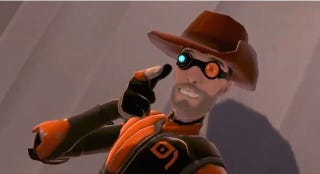 It started with a lunchtime brainstorm by the guys who make Monday Night Combat: Maybe Valve would like to do a Team Fortress crossover? That began a process that required all of a 15-minute drive and a handshake.
No money changing hands, no strings attached.
"For us, it was like, 'Really? That's it?'" said Chandana Ekanayake, the art director for Uber Entertainment, a Seattle-area developer located just up the road from Valve. "It was a handshake agreement, completely free."
Team Fortress 2's signature hats, plus Penny Arcade's - ahem - Fruit Fucker will appear in Monday Night Combat for those who order the game before Tuesday. It's the latest in a string of recent high-profile crossovers touching the indie community, with Valve as a player in nearly all of them.