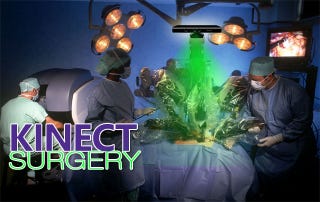 We've seen the Xbox 360 Kinect control robots before, but never robots with tasks this important. A group of graduate engineering students at the University of Washington are using Microsoft's device to guide the actions of surgical robots.
Scientists and engineers have been working for years to integrate gaming technology into the human-controlled robots that are being used increasingly to perform delicate operations too small for human hands.
The problem with surgical robots is that while they allow for extreme precision, there is no tactile sensation for the doctor operating the tiny robotic arms. If a scalpel brushes against an exposed vein, for instance, the robot operator does not feel the subtle bump.
"For robotics-assisted surgeries, the surgeon has no sense of touch right now," said Howard Chizeck, UW professor of electrical engineering. "What we're doing is using that sense of touch to give information to the surgeon, like 'You don't want to go here.'"
Engineers have been working to integrate gaming's force feedback technology into the robots, translating those tiny bumps into force felt on the operator's end.