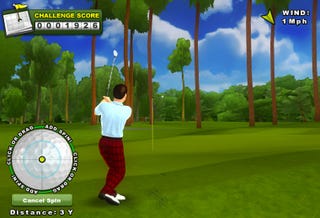 The coda for Facebook games, among serious gamers anyway, normally begins with a sneer at the idea and then an accounting of all the ways it's not a video game. Would a sports title make any difference?
Probably not. Well, not right now, anyway. Earlier this week PGA Tour Golf Challenge went live on the social network, the third offering from EA Sports on that platform. It's a recognizably new game - with three-dimensional graphics and gameplay choices analagous to what on e plays in the console versions of its PGA Tour products.
But reactions to it, in the comments of core gamers I read, reflected more of a deep distrust of Facebook games. This still is a branch of video gaming that, regardless of who's in it, serious gamers view as little more than reheated marketing, glorified advergaming, or a sinister con designed to separate bored people from their disposable cash.
"The reason Facebook games aren't taken more seriously as games is that most of them are pretty bad," said Ian Bogost, the noted games academic whose "Cow Clicker" application is a smart parody of the inanity found in most social gaming experiences. "Even the ones that aren't are swimming upstream against the reputation that preceded them."