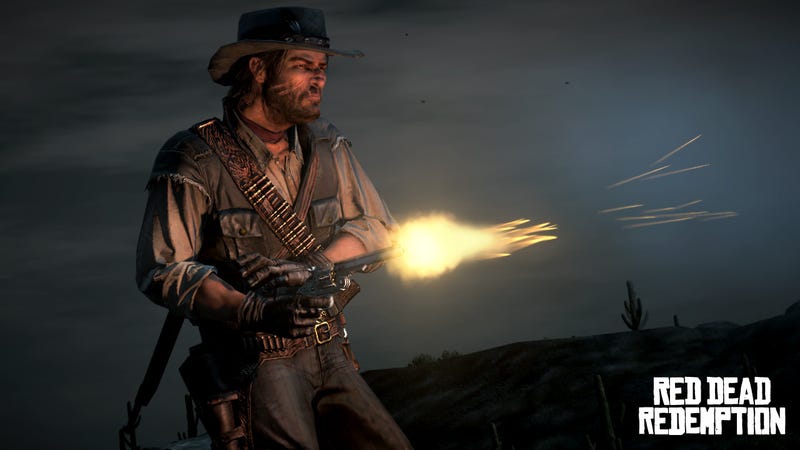 In another universe, they made a box containing Red Dead Redemption that's just for me. The front is familiar. The back, though, boasts the kind of bullet points I might demand of a great video game:
-Respects Your Intelligence (Because it doesn't bore me with some easy and obvious macho super-hero of a main character.)
-Is Beautiful (Because why make a video game Western that doesn't have the best sunsets, tumbleweeds, wild horses and shot-off hats I ever saw in a game?)
-Is Fun To Control Even When You Wouldn't Expect It To Be (Like when you're tracking a cannibal, talking to a man who might be the devil, shooting birds, or herding cattle during a lightning storm.)
-Has Negative Space (Since the wonder of the American West is magnified by its immense size, and therefore, when made into a video game, should be a place of grand vistas, slow gallops, and long trails at the end of which may lurk either grizzlies or civilization.)
Red Dead Redemption let me pretend I was in a place that was once real. It nearly overwhelmed me with the deft manner in which its plain core gameplay was put in service of many unusual and interesting activities. Its characters weren't just memorable. Their behaviors were fascinating: the tension of romantic affection stifled into friendship; the stubborn clinging to past glories; etc.
The game's developers at Rockstar created a work rich with the results of great decisions: they were right to trust its players to find its treasures by scrutinizing its landscape; right to interrupt the game's instrumental soundtrack occasionally with a stirring song; right to end John Marston's story not when expected but only after we got to see what could become of a weary outlaw who pined for a wife and son long unseen.
There was no game in 2010 as beautiful and as full of such smartly-crafted adventures — loud and quiet, grand and quaint — as Red Dead Redemtpion. It was the best video game of 2010.
Luke Plunkett's Reply
We're so used to video games being derivative works of fiction that we almost take it for granted. We simply assume that because a game is basing itself on an established genre in another medium - in this case cinema's Westerns - that the world you're about to enter is going to be somehow lesser because of it.
How great Red Dead Redemption is, then, to overcome this. Through its strong cast of characters, sharp dialogue, gorgeous visual design and skin-tight soundtrack, the game stands proudly in the company of any dusty plain crafted by Sergio Leone, John Ford, Sam Peckinpah or Clint Eastwood.
Of course, as some will no doubt point out, it's far from perfect. It was buggy, Marston made too many idle threats (and went on one too many pointless errands), and its multiplayer was a good idea gone bad.
But games shouldn't be judged like a science exam. We're not looking for perfection here. We're looking for the richest, most memorable and enjoyable experience of 2010, flaws be damned, and for me, that came from completing Red Dead Redemption. Twice.
Brian Ashcraft's Reply
Yes, people talk too damn much (especially for a Western!) and, yes, John Marston sometimes comes across as everyone's errand boy, but this is truly a compelling game and truly a compelling Western.
John Marston is a good man. Players have the option to make Marston do bad things, but I could never bring myself to, not for fear of in-game punishment, but because John Marston is a good man. I can't ever recall a game giving me so much freedom, and then deciding for myself to stay as close as possible to the straight and narrow, because that's what John Marston would do.
So much of what makes a game click for you boils down to timing — when you play it. The stars were aligned, I guess, when I sat down with Red Dead Redemption. The setting, the mode, the story all clicked. I agree with Luke and Totilo. This is one special game and Game of The Year.
Mike Fahey's Reply
It's extremely difficult to argue against you guys when it comes to Red Dead Redemption. When I previewed the game back in March of last year I knew Rockstar was creating something spectacular. That a video game could make an act as simple as sitting on your horse staring out across the scrub plains such a rich and satisfying experience is an astounding feat.