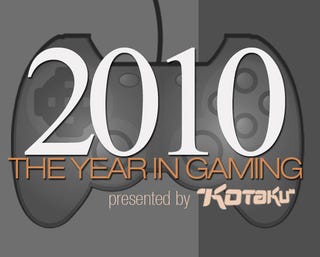 The winner and losers; the highs and lows; the disappointing failures and the heartwarming successes of 2010, we covered it all as the Earth's odometer rolled over another year this past week.
Fahey supplied a gorgeous, poster-quality roundup of the 2010 timeline to roundup our recap. Other fan favorites included Crecente's accounting of the past year's worth of controversies; Luke's reminders that not all of 2010's big releases turned out spectacularly; Bash's gallery of cosplayers and my review of the year's NSFW developments.
Happy 2011. Here's the week, covering a year, in Kotaku's original reporting.
2010 In Review
2010: The Year in Gaming
The Year In Sports Video Games
The Year, NSFW
The Year in Controversies
The Year In Disappointments
2010: A Symphony Of Cosplay
The Year In Video Game Trailers
The Year In Surprises: Highs And Lows From 2010
The Year In Motion Control Video Games: The Hype, The Horror, The Happiness
2010: The Year In Good (Video Game) News