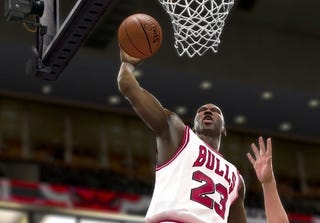 Every year in sports has its winners and losers, but in sports video games, the results aren't about pennants and trophies. And they're not always clear-cut, either.
We expect the routine with sports video games, the only genre consistently delivering sequels on an annual basis. And 2010 was like most years before it, with its share of cover athlete announcements, new features, and top performers following last year's edition with solid successes.
Kotaku's roundup of 2010 is not of the routine stories, but the ones that had the most lasting impact on this year, and should into next year, too.
NBA Delete
By far the biggest sports news of the year was also one of video gaming's biggest controversies overall - the cancellation of EA Sports' renamed, remade NBA Elite 11. The decision went all the way to the desk of Electronic Arts CEO John Riccitiello, and his call to bag Elite marked the first time an annual, fully licensed sports game failed to release since Madden NFL 96. Riccitiello, in a candid discussion with Kotaku's Stephen Totilo, acknowledged that glitches highlighted by a brutally humiliating YouTube video of Elite's demo helped seal the game's fate.