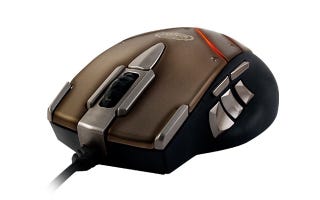 While millions of World of Warcraft players do just fine with your standard two-button mouse, SteelSeries reckons they could do better with the extra twelve provided by the World of Warcraft: Cataclysm MMO Gaming Mouse. Are they right?
Specs
Price: US$99.99
Platform: Mac, PC
What's in the box: Mouse, Instructions (Driver software is downloaded via the SteelSeries Website)
Two years ago SteelSeries and Blizzard Entertainment joined forces to create the World of Warcraft MMO Gaming Mouse, a sexy yet cumbersome 15 button mouse dedicated to making gamers' travels in the fantasy world of Azeroth easier. Now that the Cataclysm expansion changed the face of World of Warcraft, SteelSeries changed the face of their top-end MMO mouse.