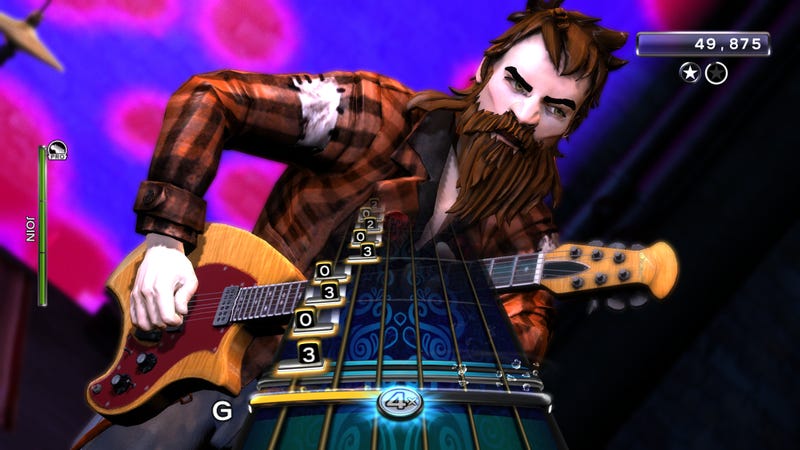 Greg LoPiccolo didn't have to leave his office in a brick building near Boston this year to see how two of the biggest trends in the last half-decade of video games were playing out. There were doubters outside. Inside?
In the offices of Harmonix Music Systems, the place where the hit Rock Band games are made and where LoPiccolo is vice president of product development, a team of a couple hundred developers were creating two games this past year.
In the early part of 2010, both games were secrets to the outside world.
Each would prove late in the year to be among the best in their class.
One, Rock Band 3, was the next in a long line of games you play with a guitar-shaped controller in your hand. The other, Dance Central, was going to be a new entry in the field of games that involve jumping around in front of your TV, a field made popular by Nintendo's Wii.
The public didn't know to wonder about Harmonix's dancing game. Most people didn't know it was coming. But Rock Band 3 was obvious. Harmonix had been making music games before they were bought by the conglomerate Viacom in 2006 and made a sister company to MTV. Rock Band was what Harmonix did. Rock Band, Rock Band 2, Green Day: Rock Band, The Beatles: Rock Band, etc.
Music games weren't as hot as they'd been in 2006 or 2007. Rock Band, Guitar Hero and the competition the series spawned had collectively been a sensation but then dropped. The year - a year by whose 357th day would see Harmonix sold by Viacom of the year - began with murmurs outside Harmonix: maybe the music gaming thing was over?
LoPiccolo was aware of that kind of talk. Of course he'd heard that music games might have been a fad. "It affects what we make," he said in a telephone interview with Kotaku earlier this week, "but not as much as you'd think. We're trying to do what we think would be good."
He remembered where his mind was at early in the year.
"We had laid the groundwork for all the stuff we're doing in Rock Band 3 really like a year before then. [The game] was like two years plus in development." He couldn't rely on the outside world's sense of what was happening with music games. They weren't playing the stuff Harmonix had in their offices. "The main thing is trying to focus on things we think are good and ought to exist and maybe worry less about what people think, particularly before they have had a chance to experience it."
Early in the year, from LoPiccolo's perspective, the doubts outside didn't much matter. He liked that part of the year — that part of any year, really, when creating a video game is a more private affair. "It's fun to be in the bubble and working on it, where the only thing that matters is making it better and you're not worried about people's perceptions," he said. "That's all going to come in the future. You're just worried about trying to make it awesome."
A Winter Spent Figuring It Out
The big things about Rock Band 3 were that it was going to support keyboards and, optionally, an actual electric guitar. Back in February, the team had a Yamaha plastic guitar wired up to the game. It worked, they were playing Rock Band with a stringed guitar. The Yamaha set-up worked all right, but the new game could be confusing to play.