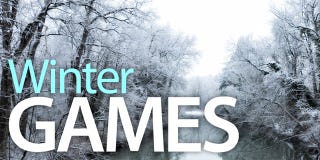 Winter used to be the worst time of the year to look for great new video games. Not anymore. Here are some of the most promising and most interesting video games slated for release between now and late March 2011.
Late December
The standalone downloadable short Dead Rising 2: Case West (Xbox 360 download, Dec 27) pits the heroes of Dead Rising's two console games in one adventure against a sea of zombies.
On the Xbox 360, side-scrolling puzzle game Raskulls and world-building sequel World of Keflings, are both supposed to be downloadable after December 21. Also on the 21st was the release of Eat Them (PS3 download), a cartoonish game that lets you control a monster that can smash cities and eat people, and Echochrome ii, a game about moving a figure across the shadows cast on a wall, played exclusively with the PlayStation 3's Wii-like Move controller.
iPhone and iPad game releases had been intensifying in December, but dates for these games tend not to be announced early. On Dec 21, Square-Enix released its Super Nintendo classic role-playing game Secret of Mana for iPhone/iPod/iPad.
---
January
LittleBigPlanet 2 (PS3, Jan 18)
What It Is: The sequel to Media Molecule's beloved 2008 original. LittleBigPlanet games look, at first glance, like Sony's 4-player PlayStation answer to Super Mario Bros. side-scrolling games. The charm, though, is that players can access the building blocks of the game, make their own levels and share them online. The sequel allows players to manipulate more of the game's artificial intelligence, enabling the creation not just of side-scrolling levels, but, from what we've seen in the beta, everything from first-person shooters, sports games, you name it.
Should You Play It: LBP2 looks like it will be a classic video game sequel, the kind that adds and refines. Our own session with the levels in the game made by Media Molecule left us with the impression that this sequel will be more fun than the first.
Ghost Trick: Phantom Detective (DS, Jan 11)
What It Is: This is a new one from the smart people who created the hit Ace Attorney series for the Game Boy Advance and Nintendo DS. In Ghost Trick, you control the spirit of a murder victim who can possess and partially control objects in order to solve mysteries — and at least in the level we previewed — try to save other people from being killed.
Should You Play It: Considering that the the game's creators made being a lawyer fun in their last series, they get the benefit of the doubt here. Plus, the game looks gorgeous.