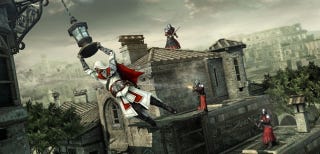 The future of Assassin's Creed series promises twists and "something really big," the writer of Assassin's Creed Brotherhood tells Kotaku. But what about the new game's cliffhanger ending? "
"We have a lot of twists waiting," Jeffrey Yohalem told Kotaku during a recent telephone interview. "There's a lot that's going to happen that should be surprising.
SPOILERS: In this post, we're talking about the ending of Brotherhood.
At the end of Assassin's Creed Brotherhood, the series' modern-day protagonist, Desmond Miles, appears to lose control of his body. He turns toward Lucy, the Kristen Bell-voiced modern-day assassin who has been assisting Desmond for all three major Assassin's Creed games. She's been helping him relive the lives of his ancestors and survive attacks from the historical foes of her assassins guild, the Templars.
Lucy and Desmond have reached a key artifact, Desmond has lost control of his body as he sees visions of some spectral pre-human ancestor. He unsheathes a blade, turns to Lucy, and he kills her.
The screen goes dark, credits roll and two new new voice is heard, some men talking about someone (Desmond, presumably) going into shock and saying to put "him" back in the Animus… what just happened?
Don't ask Kristen Bell. Yohalem said that longtime Assassin's Creed creative director Patrice Desilets, who left the series and parent company Ubisoft earlier this year while Brotherhood was still in development, had attended Bell's voice-recording session and had hidden the details of her character's apparent death from her. "He didn't show her that," Yohalem said. "I don't know whether she knows yet."