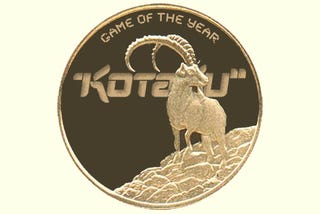 Yesterday, we named our four finalists for Game Of The Year. Only four. As 2010 wheels in to a fast finish, we'll be debating the best that games had to offer this year.
Mass Effect 2, Call of Duty: Black Ops, Red Dead Redemption and NBA 2K11. That's a role-playing game, a shooter, a sandbox action-adventure, and in a first, a sports game. A compact list inevitably leaves off an outstanding title; more than four great games were made this year, of course. But these candidates all lay a credible claim to a comprehensive excellence that pushes their genre forward.
We'll be writing up our formal nominations and defenses in the weeks to come. Don't worry, you'll get your say; you already are, actually, if the comments on the posts announcing these nominees are any indication.
The week that was in Kotaku's original coverage:
Top Stories
Kotaku's 2010 Game of the Year
Concentration Camp Game Was Meant To Be 'Fun'
Kotaku's 2010 Gift Guide of Obscene Nicety and Sublime Naughtiness
Everything You Need To Know About World of Warcraft: Cataclysm