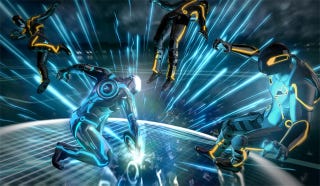 Between Disney's 1982 classic Tron and its flash 2010 sequel lies Tron: Evolution, the video game that seeks to bridge the gap between the two films. This is one shaky bridge.
Tron: Evolution puts players in the digital shoes of Anon (short for Anonymous), a faceless system monitor that gets caught up in the struggle between the original movie's hero Kevin Flynn and Clu, a program created in Flynn's likeness to represent him inside the digital world of The Grid. Clu has gone rogue, and it'll take all of Anon's free-running parkour skills and disc combat proficiency to set up the plot for Tron: Legacy.
Ideal Player
Players intrigued by Tron's glowing digital world will find plenty of backstory lurking within Evolution's extras, while devotees of Prince of Persia-style action adventure games might enjoy the action, as long as they don't mind repetition.
Why You Should Care
Tron: Evolution is the direct sequel to what many consider the world's first great video game movie, and elements from the game are said to give extra insight into scenes from the upcoming feature film Tron: Legacy.