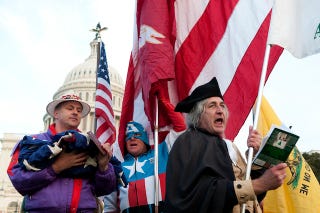 I have no idea who the Sarah Palin is of video games nor the Barack Obama of video games. But Gabe Zicherman, chairman of the Gamification Summit knows who the gaming Tea Party is: people who don't like gamification.
"These tea partiers are game designers," Zicherman wrote earlier this week on the Huffington Post. "Their target isn't a black President and changing society, but a growing trend in design and marketing called gamification."
Gamification, as it's defined by its proponents, is the addition of game-like systems on top of everyday activities. Sounds dry, unless you listened to this big Gamepocalypse speech earlier this year or until you find yourself checking into Foursquare to win achievements for the feat of just being somewhere. Do you dream of the future in which people are encouraged to eat healthier food thanks to the same systems of encouragement and reward that compel a gamer to reach level 85 of World of Warcraft?