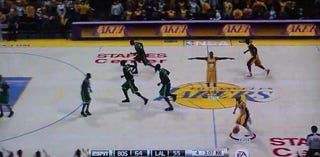 Electronic Arts' CEO described a nail-biting 150-hour finish for NBA Elite 11, and the choice he made to cancel the game outright. "There aren't many decisions that are essentially squarely on my desk," John Riccitiello told Kotaku. "This was one."
Riccitiello, in an extensive interview with Stephen Totilo this week, candidly assessed the lay of the land for NBA products and concluded that he was "kind of hard-pressed to find a constituency that is less well off from the decision we made." EA Sports went back to the drawing board on something internal analysts pegged as around a 60-rated game; NBA Jam was uncoupled from it, which many consumers wanted; and the hardcore basketball fan still had a great simulation - it just wasn't EA's. "I don't think the consumer was served badly by buying 2K," he said. "It's a good game.
"I don't want to sound self-satisfied," Riccitiello said, "but I'm pretty proud of our ability to make that decision."
Electronic Arts' boss also held forth on the PSP2, the end of skateboarding as a video game genre, how and if the music genre will rebound, and the company's plan to take on Activision's Call of Duty franchise.
Kotaku's week of original reporting, which also featured wall-to-wall coverage of what's new in World of Warcraft's heavily anticipated Cataclysm expansion, follows:
Top Stories
The Plan To Dethrone Call Of Duty
How A Big Video Game Was Killed
One Man's One-Word Dead Space 2 Review
Diehard Nintendo Fans Debate Whether Donkey Kong Is Good Or Evil
Everything You Need To Know About World of Warcraft: Cataclysm
The Creepiest Rebirth Of Post-Cataclysm Azeroth
The Only Way To Travel In Post-Cataclysm World Of Warcraft
Tour World Of Warcraft's Post-Cataclysm Barrens