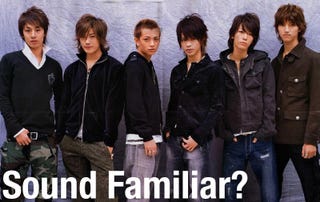 The music might sound familiar. That's because it is.
Kat-Tun is a popular Japanese boy band. But when popular boy bands steal, the internet knows it. Released in mid-November, the group's newest single features a track called "Never X Over", which sounds exactly like a popular Vocaloid tune.
Vocaloid is synthesizer software that was developed by Yamaha and a Spanish university. The Vocaloid character Miku Hatsune is now iconic in Japan, "appearing" in concerts, having her face plastered on race cars and even used in political campaigns.