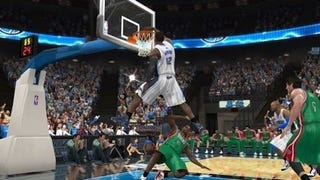 The last-minute cancellation of EA Sports' NBA Elite 11 this fall isn't supposed to happen to any video game. How? Why? Kotaku learned the unusual story this week from EA boss John Riccitiello.
"I'm not sure I'm going to give you a good explanation," Riccitiello told me when I brought up the topic of Elite during an interview in Manhattan this week, "So I'll just give you the chronology and let you interpret what you want."
I'm going to pass Riccitiello's approach on to you, the reader and present virtually all of what he said about Elite, a frank blow-by-blow with some added explanation from me. Then you may interpret it as you'd like.
Riccitiello started his tale by talking about the creative team behind the NBA series, a team ready to transform EA's long-standing NBA Live series into 2010's NBA Elite 11.
"A year and a half ago the [development] team in Canada came forward and they said, 'Look, the way we're going to take 2K on is that we're going to fundamentally innovate. And we're going to essentially give you dual-analog controls that give you an enormous amount of fidelity over the way you play the game.' You can literally take the ball from left to right, left to right, drive to the basket, switch the ball to your left hand and do a left-handed dunk. And they showed me that gameplay and put the controller in my hand, and I said, 'This is about as much fun as I've ever had playing any sports game.
"They said, 'We're going to do this for next year.' But it was a complete rewrite of the technology. It was an ambitious plan.
"They were flashing from Canada that the game was going to come in hot."
"Somewhere in the July timeframe, they were flashing from Canada that the game was going to come in hot. In a way, they'd sort of bit off two years' worth of work that they could only get done in 18 months. So it was going to come in hot. But they were still signaling to us that it was going to come in good, that they were going to get it.
"The demo went on around the same time we were mastering the game [Editor's note: Meaning the game was just about done and ready to go in boxes headed to stores]. The report was — we had known a month earlier that the gameplay was great but that they didn't synch up well against the animations, which was what…."
As Riccitiello searched for his next word, I extended my arms out to the sides, in the manner of the notorious bug that helped make the NBA Elite 11 demo a mockery. "This guy," I said. "Yeah," Riccitiello responded.