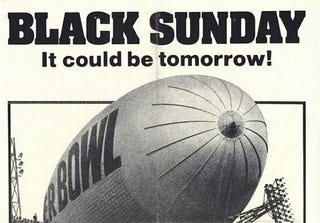 Holiday retail season is officially upon us, and the deals aren't offered only on the Friday after Thanksgiving. We have a blimpful of them in this morning's Moneysaver.
No snazzy movie quotes - not sure any are recognizable in this 1977 tale of a terrorist plot at the Super Bowl. Black Sunday was a commercial hit then, but would probably freak everyone the eff out today and result in super duper TSA x-rays for everyone entering any NFL game.
This is also the only film I know of starring Pat Summerall and former Miami Dolphins owner Joe Robbie.
Remember, many deals in our Black Friday roundup are still good (provided your local store hasn't run out of stock.) For extra help on what to buy, check out our 2010 Gift Guides.