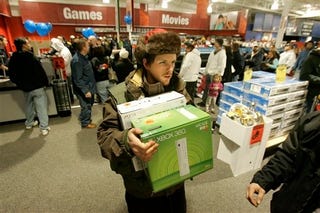 We're just 24 hours into the Christmas shopping season and we're thankful there are no reports of tramplings, maimings or tear-gassings. Yet.
Update: Apparently there was a Buffalo stampede. No, really. There was a trampling at a Buffalo-area Target. None were seriously hurt.
All that said, all of the holiday shopping is not done within a single day. There are still 27 more left before Christmas. And if getting up at 3 a.m. to mass in front of a big box store's doors isn't your cup of tea, the new "Cyber Monday" tradition of online shopping is heading your way in 48 hours.
Until then, pile up a plate of leftover turkey, slather on some congealed, refrigerated gravy, nuke it for a couple minutes, and reflect on Kotaku's week in original reporting.
These Gaming Deals Are INSANE!!!
The Best Video Game Black Friday Deals and How To Get Them
Kotaku's 2010 PC Gift Guide
Kotaku's 2010 Xbox 360 Gift Guide
Kotaku's 2010 PlayStation 3 Gift Guide
Kotaku's 2010 Mac Gift Guide
Kotaku's 2010 Windows Phone 7 Gift Guide
Kotaku's 2010 Wii Gift Guide
Kotaku's 2010 DS Gift Guide
Kotaku's 2010 PSP Gift Guide
Kotaku's 2010 iPad Gift Guide
Kotaku's 2010 iPhone Gift Guide
Leaked GameStop Black Friday Ads Includes PS3, Wii, Xbox 360 Bundles