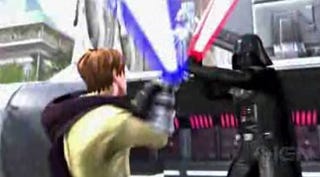 A top engineer for the PlayStation Move backhanded Kinect's upcoming Star Wars game as "scripted," called its notorious E3 demo "faked," and said a Star Wars Move game will "be damn better than Kinect's." Such a game hasn't been announced.
"I'm usually not very aggressive," said Anton Mikhailov to Eurogamer. He then proceeded to be just that. "But I will say [Move's Star Wars game] be damn better than Kinect could ever do."
He backed off when Eurogamer pressed for details.
"I'm not in the product planning division so unfortunately I can't tell you much more about that," Mikhailov said.
But he can tell you that Kinect makes for a terrible lightsaber game platform. "There's no way Kinect can do a good lightsaber game. Just never. Unless they give you a stick," he said. "If they give you a stick then they can do OK, but then they're going to ruin their whole no controller motto."
A demo shown at E3 appeared to be an on-rails experience. "I've seen the demo but it's so scripted, and wasn't it like, faked?" Mikhailov wondered.