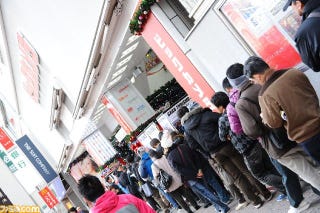 Yesterday, Gran Turismo 5 went on sale in Japan. And when it hit retailers, there was a line of gamers waiting to pick it up.
At the Yodobashi Camera in Akihabara, there was a line of over a hundred gamers waiting to purchase GT5. Last week, Microsoft held its Japan launch for Kinect at the same retailer.
The line for Kinect was longer (150 strong compared to the 100 or so here). However, the Kinect event had famous people at it. This launch did not. It had Gran Turismo 5, people waiting for it and orange cones.