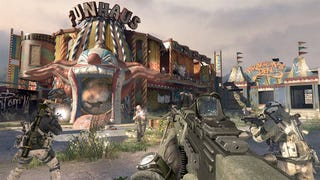 The Call of Duty experience you have now, the one that includes Modern Warfare 2, Black Ops and future Call of Duty boxed games, will never include a subscription fee, Activision tells Kotaku.
"We will never charge for multiplayer for Call of Duty," Eric Hirshberg, newly appointed CEO of Activision Publishing, told me as our interview this week wrapped up.
What Hirshberg didn't say, wouldn't talk about is in what ways the popular franchise may branch out into other genres, genres that could include a subscription fee.
Back in 2008, Activision-Blizzard CEO Bobby Kotick, Hirshberg's boss, talked about the natural evolution of Call of Duty and how it might include a massively-multiplayer environment, one that could be "monetized."