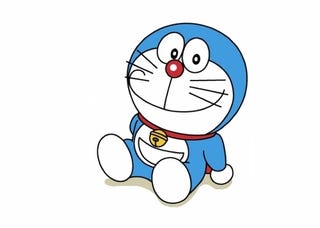 Nobuyo Oyama is famous for voicing everyone's favorite earless robot cat from the future Doraemon and, well, looking like Doraemon.
From 1979 to 2005, Oyama voiced Doraemon. The 74-year-old was retired from the show and was replaced by a new Doraemon voice (not quite the same!) and a new Doraemon theme song (not as good as the previous one!).
Her lengthy resume is predominately the Doraemon television show, Doraemon movies and Doraemon video games. But this November, Oyama is voicing the menacing bear character "Mono-Bear" in PSP game Danga-Ronpa — a role she initially rejected.
As previously posted, Dangan-Ronpa, which means "winning an argument with bullets", is like Battle Royale, but with a psychotic bear instead of a psychotic Beat Takeshi.