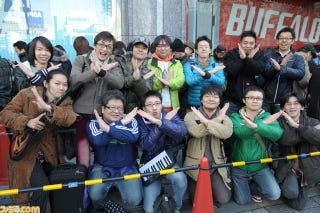 After going on sale earlier this month in North America, Kinect finally launched in Japan. How'd it go?
There was at least one long line for Kinect, which is good news. Why is it good news? Because if Kinect is successful in Japan, hopefully that means more Japanese developers will make software for it.
If Kinect isn't successful, that means Japanese developers could be at a disadvantage, because the product looks like it is going to be a hit worldwide, putting Japanese game companies in the position of trying to figure out what players outside the country want to play on Kinect.
Besides the obvious space issue, the real difficulty Microsoft has in Japan with Kinect is the install base. For many consumers, buying Kinect means buying an Xbox 360. In the West, where the install base is high, consumers can purchase Kinect to enrich their Xbox 360 experience.