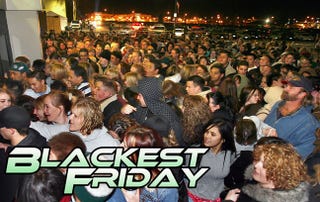 Consoles on the cheap! Twofer video games! Accessories galore! It's here, the gauntlet of shopping that is the run-up to the holidays in the U.S. [Updated daily, now includes: Alienware, Amazon, Best Buy, GameStop, Kmart, MadCatz, Meijer, Old Navy, Target, Toys R Us and Walmart. ]
Below you'll find a ever-growing list of video game deals, sales and giveaways that will be available on the days surrounding Thanksgiving. Feel free to drop your own deal finds in comments and bookmark this page. We'll be updating it daily through to Black Friday and Cyber Monday.
---
DS, DSi, DSi XL
Thanksgiving
Toys R Us
*Kung Zhu for $14.99
* Megamind: The Blue Defender for $14.99
*Monster Jam 3: Path of Destruction for $14.99
*Scribblenauts for $14.99
*Zhu Zhu Pets 2: Wild Bunch for $14.99
*How to Train your Dragon for $9.99
*Percy Jackson and the Olympians for $9.99
*SimCity for $9.99
*Spider-Man: Shattered Dimensions for $9.99
*Spongebob Truth or Square for $9.99
*Spore Hero Arena for $9.99
*The Sims 2 Pets for $9.99
*Transformers: War for Cybertron (Autobots Edition) for $9.99
Day After Thanksgiving
Amazon
*Jeopardy for $14.99
*Wheel of Fortune for $14.99
Best Buy
*Limited Edition Red or Green Nintendo DSi Holiday Bundle for $149.99. Includes Mario Party Game (Doors open at 5 a.m.)
*Cooking Mama 2: Dinner With Friends for $9.99 (Doors open at 5 a.m.)
*Disney Fairies: Tinkerbell and The Lost Treasure for $9.99 (Doors open at 5 a.m.)
*Shrek's Carnival Craze Party Game and Madagascar Kartz for $9.99 (Doors open at 5 a.m.)
*Animal Planet: Vet Life and Animal Planet: Emergency Vets for $9.99 (Doors open at 5 a.m.)
GameStop
* Get a free copy of Fossil Fighters or the Legendary Starfy with the purchase of the Limited Edition DSi bundle.
* Limited Edition Orange or Green DSi w/ Mario Party DS for $169.99
* Pre-Owned DS Lite for $69.99
* Scribblenauts + Super Scribblenauts $39.99
* Buy 2, Get 1 Free on all pre-owned games and accessories
Many more deals at GameStop's Black Friday ad.