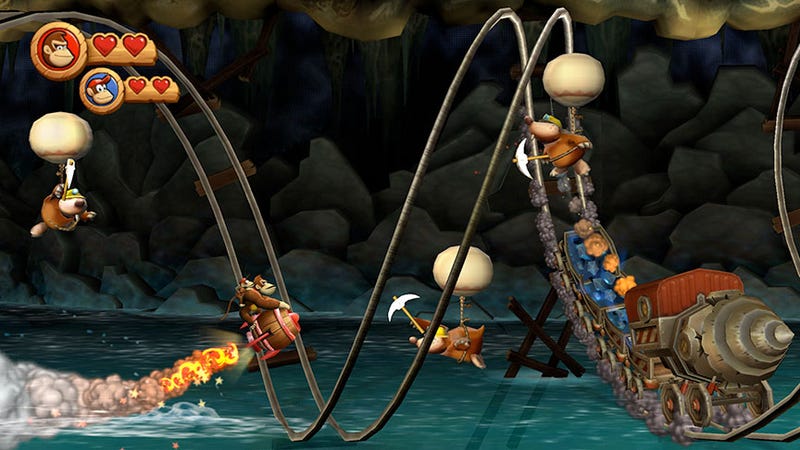 The people responsible for turning Metroid on its head with Metroid Prime for GameCube now have their hands on Donkey Kong. What have they done with it? Delivered the expected, a Donkey Kong Country game that goes back to basics.
Where others have experimented with Donkey Kong adventures in 3D worlds (Donkey Kong 64) and with bongos-based control (Donkey Kong Jungle Beat), Retro Studios plays it straight with Donkey Kong Country Returns. In this side-scrolling action game, Donkey Kong and his tiny sidekick Diddy Kong seek revenge—precisely, the return of their swiped banana stash—against a group of evil, hypnotic Tikis known as the Tiki Tak Tribe. The Kongs will leap from precarious platform to precarious platform, riding mine carts, rocket-powered powder kegs and a returning Rambi the Rhino as they scroll to the right, seeking banana redemption.
Ideal Player
The Nintendo fan who finds New Super Mario Bros. and Kirby's Epic Yarn beneath their level of platform game playing expertise—this is a very challenging game—and the visually acute explorer who likes studying screens and flexing their hand-eye coordination skills to find every hidden coin, puzzle piece and bonus level.
Why You Should Care
This is the Nintendo platformer at the opposite end of the spectrum from the last one the company released. Kirby's Epic Yarn is for creampuffs, but Donkey Kong Country Returns is for the hardened Nintendo fan.