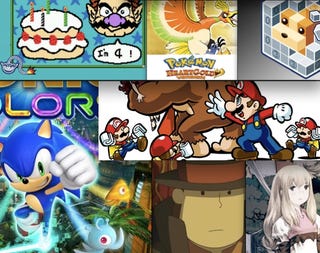 The busiest shopping day in the U.S. hits next week. Time is running out! You better start thinking about what you want to give (and get) this holiday season.
The Nintendo DS has a slew of solid titles that would make wonderful presents. Here's our take on the ten best Nintendo DS games to give and get for 2010. Hope you enjoy the list. Feel free to add your own recommendations in comments.
Dragon Quest IX: Sentinels of the Starry Skies

Rating: 10+
Genre: Role-playing
Ideal Player: The grandaddy of Japanese RPGs, Dragon Quest IX is for old school gamers who enjoy turn-based combat and local multiplayer.
What's It About?
Players are a fallen angel helping people who are down on their luck by doing good deeds in this, the ninth numeric entry in the beloved Dragon Quest franchise. Players are free to roam about, chat up town folks and go on quests. The largely angst-free game features monsters with smiles on their faces. This is a happy role-playing game!
Bang For Your Buck:
The main quest takes around forty hours, but even after completing it, there are still more "post-game" quests for players to complete.
Read our review here.