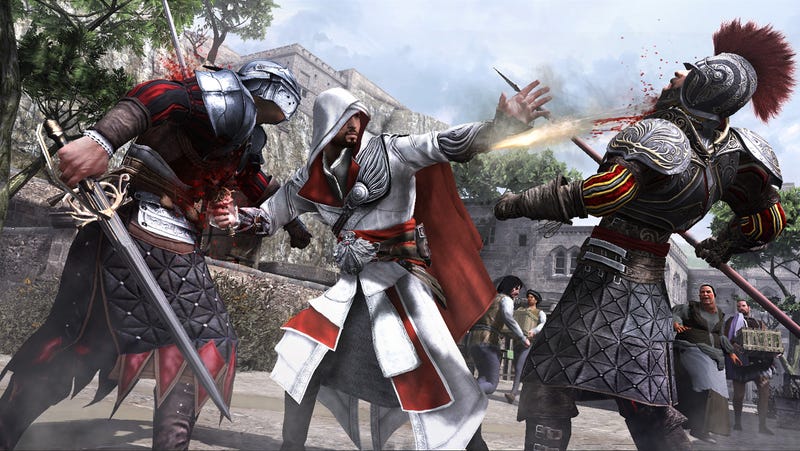 A year after Assassin's Creed II, the story of Ezio Auditore shifts to Rome with Assassin's Creed: Brotherhood, the week's major core console drop. Others of note include Need for Speed: Hot Pursuit, Sonic Colors, and NBA Jam in high definition.
Sunday (Nov. 14)
Dood's Big Adventure (Wii)
Mario vs. Donkey Kong: Mini-Land Mayhem (DS)
uDraw Studio (Wii)
Monday (Nov. 15)
NBA Jam (PS3, 360)
Remington Super Slam Hunting North America (Wii)
The Sims 3 (Wii)
Tuesday (Nov. 16)
Assassin's Creed: Brotherhood (PS3, 360) - Continue the struggle against the Templars with Desmond and Ezio in the Eternal City, or take the fight online in the first Assassin's Creed to feature multiplayer
Harry Potter and the Deathly Hallows: Part 1 (DS, PC, PS3, Wii, 360) - The boy wizard is represented on all major platforms in the adaptation of the latest Harry Potter film, also premiering this week.
Need for Speed: Hot Pursuit (PC, PS3, Wii, 360) - Seacrest County is a playground for the hottest street racers in the world, but that will change with the introduction of playable law enforcement in the game's multiplayer.
Sonic Colors (DS, Wii) - Pre-release reception for this platformer has been strong, but we have good reasons to see it for ourselves before answering the eternal Sonic question: "Does it suck?"
Also: Apache: Air Assault (PS3, 360); Create (PC, PS3, Wii, 360); DanceDanceRevolution (PS3, Wii); EA Sports Active 2 (PS3, Wii, 360); EA Sports Active NFL Training Camp (Wii); Marvel Super Hero Squad: The Infinity Gauntlet (DS, PS3, Wii, 360); Namco Museum Megamix (Wii); Nine Hours, Nine Persons, Nine Doors (DS); Pac-Man Party (Wii); Reload: Target Down (Wii); Remington Super Slam Hunting Africa (Wii); Split/Second (PSP); Tom Clancy's Ghost Recon (Wii)
Wednesday (Nov. 17)
Alien Breed 3: Descent (PC, XBLA)
Thursday (Nov. 17)
Deca Sports Freedom (360)
Game Party: In Motion (360)
Friday (Nov. 18)
Pro Evolution Soccer 2011 (Wii)
Looking Ahead
Nov. 21: Donkey Kong Country Returns. Nov. 23: Splatterhouse. Nov. 24: Gran Turismo 5. Nov. 29: Golden Sun: Dark Dawn. Nov. 30: Epic Mickey. Dec. 7: World of Warcraft: Cataclysm; TRON: Evolution; Bejeweled 3. Dec. 12: Super Mario All-Stars.
What are you getting? What do you want? What are you looking forward to? Sound it off below, and at #twig.