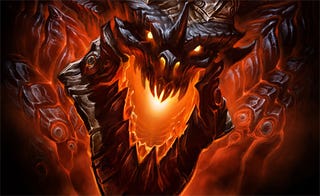 On December 7 the world of Azeroth changes forever, but fans waiting for the Cataclysm expansion may want to hop back into World of Warcraft before the big day, when lead world designer Alex Afrasiabi says things will be insane.
"We're literally waiting for that time when we flip the switch and BAM, the world is sundered," said Afrasiabi this weekend at BlizzCon when I asked him if the team was ready for the coming Cataclysm. Beta testing is still ongoing, but it's mainly polishing being done at this point.
Earlier this month Blizzard released World of Warcraft patch 4.0.1, a preparatory patch for Cataclysm, introducing some major changes before the expansion, giving players time to acclimate.