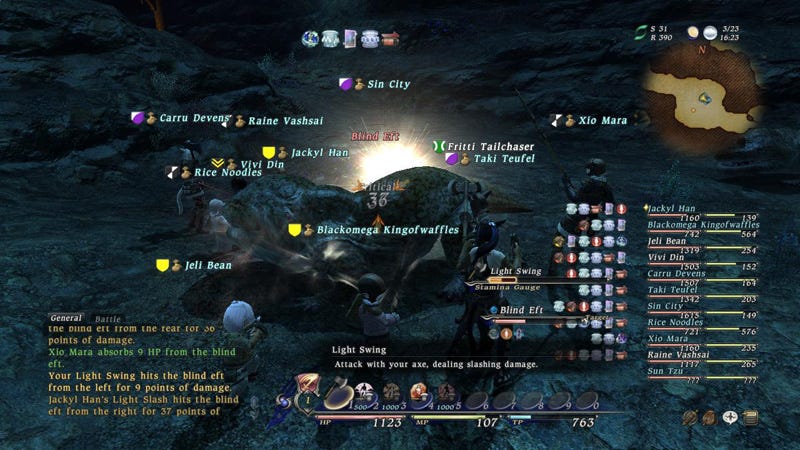 It's the fourth week of my four-week feast of Final Fantasy XIV, and my jaws are seriously getting tired.
Kotaku's MMO reviews are a multi-part process. Rather than deliver day one reviews based on beta gameplay, we play the game for four weeks before issuing our final verdict. Once a week we deliver a log detailing when and how we played the game. We believe this gives readers a frame of reference for the final review. Since MMO titles support many different types of play, readers can compare our experiences to theirs to determine what the review means to them.
I'm going to call this week's log Pancake Week. Pancakes are delicious. The thought of eating a giant stack of pancakes right about now sounds wonderful. Imagining the warm, fluffy goodness, slathered with butter and dripping with golden-brown syrup makes my stomach rumble. That's before you start eating them. The first few bites are amazing; just as you imagined. Then you start slowing down. The pancakes begin to grow heavy in your stomach. Suddenly it's not as good an idea as it originally seemed, and the thought of another bite makes you shudder.
So, welcome to Final Fantasy XIV MMO Log Four: Pancake Week.
Tuesday, October 12, 1:00AM Eastern - Pondering Pretty Things
I logged in early this morning after attending a GameStop midnight launch for Super Scribblenauts. It was mainly for Medal of Honor, but I had my priorities.
Most of the linkshell was either asleep or otherwise engaged, so I decided to just randomly wander around the world a bit.
I spend a lot of time simply wandering around the various locations in Final Fantasy XIV. It's such a pretty game. My screenshot folder is filled to the brim with beautiful scenery, and as I was running around the area surrounding Limbo Lominomicron I had to take a video, just to capture the leaves blowing in the wind as I jogged through the rolling hills.


I found myself wishing the developers had spent as much time on creating a compelling and intuitive gameplay experience as they did on those amazing graphics. The thought depressed me, and it was very late. Bedtime.
Wednesday, October 13, 10:00AM - The Wrong Final Fantasy
I didn't feel like playing today, but I logged in anyway, just to run circles around a few random people, just in case inspiration struck. It did not.
After an hour of aimless wandering, I logged off and playing Final Fantasy: The 4 Heroes of Light on my Nintendo DS. The graphics aren't nearly as nice, but the game has a final goal that's a bitch more tangible than Final Fantasy XIV's.
Thursday, October 14, 11:30PM - Toxi Is Mean
The main reason I logged in this evening was to see what the rest of Oogle (my linkshell) was up to. My time with them has been brief, but they've quickly become the most entertaining thing about Final Fantasy XIV. It's no longer about leveling my axe or making new things with my mad blacksmithing skills.
It's about Mitsudo's cheery demeanor. It's about Silver's complaints, and Hrastolm's getting angry over Silver's complaints. It's Dai's well-meaning attempts to organize linkshell activities for this past weekend, knowing I wouldn't be around much longer.
It's about Toxi being mean, mainly to squirrels.
I played for a few hours, chatting with the folks and avoiding the hell out of this thing:


This night I also learned that Final Fantasy XIV is about running from whatever the hell that thing was.
A little chat, a few guildleves, and I called it a night.
Friday, October 15, 10:00AM - Thanks, Square Enix
As if I needed any less motivation, Square Enix this morning revealed plans to fix all the problems people had been complaining about for months now, extending the 30-days of subscription-free play included with the game to 60.