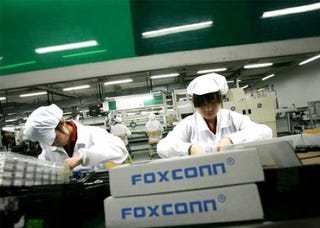 This year, a rash of suicides at the factories of manufacturing giant Foxconn has focused attention on working conditions. Improvements were apparently made, but a recent report suggests otherwise.
Foxconn assembles the Xbox 360, the PS3, the Nintendo Wii and the iPhone, among many other electronic devices.
A recent report features interviews with over 1,700 workers and was carried out by 20 universities in Hong Kong, China and Taiwan. The report criticized Foxconn's Taiwanese parent company Hon Hai Precision Industry for its work environment. Some of the issues include the claim that half of the workers have been "abused" in some form or another, while 16.4 percent have experienced violence.
Another issue brought to light was that Foxconn apparently does not have to cover medical expenses — even for workers who come in contact with hazardous materials.
After an outbreak of suicides earlier this year, Foxconn installed suicide nets, nixed suicide compensation, raised wages and even considered increasing automation on the assembly line.