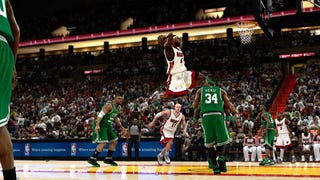 Few video games reach trending topic status on Twitter. It's the sort of thing normally accorded to disasters, celebrities, and global news. NBA 2K11 has been a trending topic every day since Monday, for 57 hours straight at one point.
For those who argue this year's game has become a phenomenon, the Twitter numbers would seem to back it up. NBA 2K11 has done an inhuman amount of traffic over the social network. The game's full title was a trending topic from 8 a.m. Monday, through all of its Tuesday release, until 5 p.m. Wednesday.
It hit trending status five more times on Thursday and another 3 times today, holding that title for 78 out of the past 98 hours.
This is, to be sure, a measure of hype, not the game's quality (although, take it from us, NBA 2K11 is pretty solid in that regard.) But among video games, particularly sports video games, this is nearly unprecedented. Madden, Halo and Call of Duty are the titles most likely to have a national-event launch. NBA 2K11, though a solid performer in past years, practically came out of nowhere. And to hold this status over more than two straight days is eye-popping.