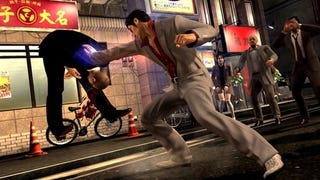 There will be far fewer content cuts in the Western release of Yakuza 4 than in the previous overseas release of the Japanese video game crime series, a Sega of America representative told Kotaku yesterday.
Hostesses will be back as will be a hostess dress-up mini-games, elements that are sure to please non-Japanese gamers who like their Yakuza games pure and populated by signature elements of Tokyo culture.
In real life and in the game, hostess clubs are frequented by men who wish to pay female workers there to hang out with them for a while: to talk, share drinks, not necessarily have sex. Their presence was cut from the western release of Yakuza 3 in order to get the game translated speedily, a Sega spokesperson had told Kotaku earlier this year.