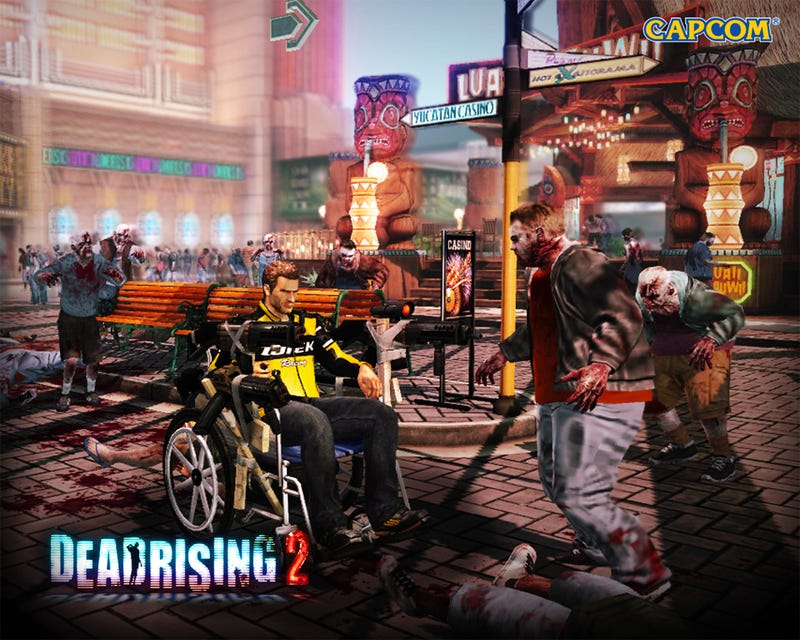 Wife dead, daughter infected, motocross superstar Chuck Greene is forced to compete on nationally televised zombie killing show Terror is Reality to earn the cash to help keep his daughter from turning. But then things go sideways.
Dead Rising 2 is the Canadian-developed sequel to 2006's incredibly popular, though slightly flawed, action survivor horror game Dead Rising by Japanese developers Capcom. Developers Blue Castle took to their mandate to Westernize the game by improving the gunplay and allowing gamers to slice and dice zombies that can pack the screen shoulder-to-shoulder. The sequel's protagonist loses the ability to take pictures, but brings with him a skill for building his own weapons.
Ideal Player
People who don't mind getting a little blood on their television screen, a little vomit on their floor, a little humor in their zombie apocalypse fiction.
Why You Should Care
Dead Rising reminded us just how much fun it is to take an object, any object and use it to beat a zombie into submission. Dead Rising 2 amps that up with oodles more zombies to decapitate, defenestrate and immolate. It also gives us not just new things to do that with, but the ability to build our own weapons.
---
Wasn't the game supposed to explore the ultimate power wielded by multinational pharmaceuticals and the corruption that can cause. Did it? The game's story revolves around the importance of Zombrex, a drug that can stave off, not cure, zombie bites. That means that the infected need a dose every 24 hours. Dead Rising 2's story taps into that potentially meaty idea, but only superficially. Even the most thought-provoking moments of the game, the emotional opening and ending of Dead Rising 2, are lost amid hours of vomit pratfalls, absurd costume changes and zombie liquefying do-it-yourself weaponry.