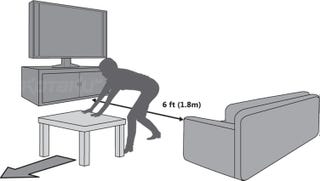 A considerate reader has sent us images from the manual for Microsoft's Kinect peripheral, and amongst the tips on USB cables and power supplies comes some disheartening news for owners of small living rooms.
The manual shows, as you can see in the image above, that for a singleplayer game you'll need six feet of clear space between you and Kinect for the game to be at its best. That's...a stretch, but multiplayer becomes an instant concern as it asks for eight feet of space.
I don't know what world Kinect's designers live in, but eight feet of space between a TV and a person is a luxury I'm sure many potential users in apartments and smaller homes simply cannot abide. I know I can't!